(Generate interest and demand that has your visitors and customers raising their hand to interact)
Once you start getting the traffic, then your website needs to provide information that is relevant, with calls-to-action that help you build interest and generate demand and leads.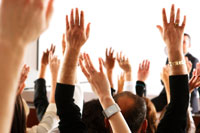 In the booklet, "Effective Online Marketing In A Nutshell", we provide an easy method to evaluate your landing pages, lead capture capabilities, email marketing, and lead nurturing (autoresponders), so you know what's working, what's broken, and what actions you can take to get them on track.
This section will provide additional information that deepens what we start in the booklet, so you can continuously advance your internet marketing strategies, and convert the traffic into leads, and then nurture those leads until they are ready to buy.
Building relationships that satisfy your leads and customers, ensures you've got not only one sale, but customers who continue doing business with you. That's real business growth!
Here is what this section covers: