24-page Internet Marketing Guide Cuts Through The Confusion...
"I Know Internet Marketing is Essential for My Business's Future...
But I Don't Know Where to Start!
What Works?
What's a Waste of Time?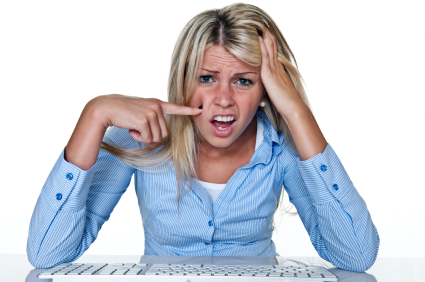 This Is A
Whole Lot Harder Than It Should Be!"
It's True. When Done Properly, Internet Marketing Can Transform the way you Find Prospects, Turn them into Customers and ENGAGE with them so they Become RAVING FANS...
...But most small and medium business owners get lost in the swamp of trends and hype and "gurus" that it becomes much harder than it should be
Facebook, Twitter, Blogs, Autoresponders, HTML, Flash, Landing Pages, Content Management, Lead Generation, Copywriting....
Everyone seems to be an expert on one of a million things...and they all think their pet area is THE be-all-end-all of internet marketing.
How YOU Can Sort Through The
Internet Marketing Mess!
Yes, Internet marketing can be confusing. A million places to start. All of which could be a waste of time if not executed properly. So we wrote a handy 24-page booklet
Effective Online Marketing In A Nutshell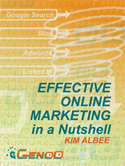 to help you get started and focus on what's best for YOUR BUSINESS...NOW!
Here's What You'll Discover:
How to look at your current online strategies and quickly tell what's working and what's broken. Online marketing is all about results! If you're not getting them, kill what you're doing and move on.
Specific advice for what you can change TODAY to get the biggest bang for your buck! We've surveyed the most dependable experts on online marketing and consolidated their advice so you can skip past the costly trial-and-error and get better ROI FAST!
A Simple Overview of the Most Crucial Components Every Internet Marketing Campaign Should Have:
SEO/Pay-per-Click (page 11-12)
Social Media (page 5)
Blogs (page 17)
Lead Capture (page 15)
Landing Pages (Page 13)
Relevant Content (Page 3)
Effective Follow Up (Page 9)
Email Marketing (Page 7)
Testing & Measurement (Page 19)
Handy Resource Guide. You get a road map of links to the best Free and Almost Free advice on online marketing we know about. The best insights...from the trenches...right at your fingertips.
Our 24-page Booklet
Shows you how to evaluate your online strategy and gives you a battle plan you can execute TODAY...
Our NO-PITCH PROMISE: You will find no advertisements in the booklet. This is just quality content that will move your business forward.
Get started making the internet work for you now!
Order your copy of "Effective Online Marketing In A Nutshell"
(We are charging a nominal $5.95 U.S. plus shipping & handling - get your first copy, then come back and order more for your team or associates, and really start moving the needle on your efforts!)