(even though you don't have a degree in English or haven't had formal copywriting training)
The content you provide and make available is CRITICAL to the success of your internet marketing efforts. It's got to be relevant, interesting, and timely for your leads. Developing a content strategy requires an ability to listen to your leads, and mapping content to the buying stages so you can pull your leads through the process and develop relationships with them until they are ready for a sales-conversation.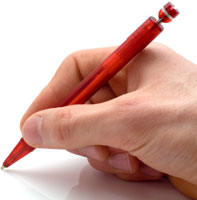 This does not need to be difficult. You already know more about your leads and your market than you think.
The challenge is taking what you know and putting it into words that enter the conversation in your leads' head, so it catches their attention and inspires them to take action.
You do not need to be a writer by training. If you know how to talk to people and engage them, you can learn effective copywriting that will work to build relationships on the internet.
In the booklet, "Effective Online Marketing In A Nutshell", pages 3-4, we show you how to develop your content ideas, and how to think about content you could develop that will resonate with your leads. We've interviewed some top authors about content and content strategy that extends what we cover in the booklet. Check them out, and add to your capacity for creating killer content: